The Party time for Google was arrived.! Yes,it's fourth birthday of the year for Google 
If you visit google.com or google.co.in or google.co.uk,etc google search domains or when you open
chrome browsers today you can see the official google doodle claiming it to be its 18th birthday.
Here are some things about google you probably mayn't know .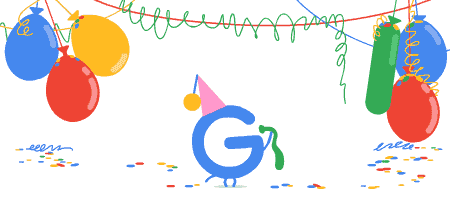 Image used for Representation purpose only
#1) Google love for animals ..
Google has its dedicated field for caring animals.People working on google can take their pets like
dog to their office as google is dog friendly,
Though cats too are allowed,most people dont prefer it to carry with them as cats will irritates the
dogs.
So if you are working on google,you don't need to worry as you can take your pet with you.
#2) Google Green
Google,this tech giant had several fields to tackle crisis.But to deal with the climate change and to
encourage towards green environment,google only cleans its company's grass with goats and
sheep,they don't use any machines or man power,making an impressions towards green
environment.
#3) 26
Google has domains that has all alphabets.The company had domains that start with characters of
alphabets,apart from that it owns the domain abcdefghijklmnopqrstuvwxyz.com too.
#4) Google's love for Education & Work..
Yes,google promotes education and its free of cost.You only need to pay some money when you
wish to participate in exams to get certified and that's too lesser than other companies.
So,if you wish to gain some knowledge about something,then you can invest your time on free
google education.
The company also pays 50 % of the salary of a person to the children whose parents died
( while working on google) till they grown up and learn to survive themselves.
#5) No one knows google's true birthday,even google doesn't know about it!..
Yes,this is almost an funny fact,but the truth is google don't know about their birthday.this is because
google was founded on one day,domain registered on one day,etc..
that's why google celebrates four birthdays per year with 27th September as its main birthday all
over the world.
Well,that's the end of this post, i hope you loved it.